A junior in high school, I still remember it clearly. I had been deep down the Pinterest rabbit hole and found myself saving every picture under my search for photos of,  "purple hair for dark brunettes." I promptly texted my boyfriend at the time and asked, "Would you still like me if I had purple hair?" to which he replied, "Yes, but don't dye your hair." 
Don't worry guys, I dyed my hair. 
Years later during the summer before my sophomore year of college, I finally booked an appointment to get my hair done – much to my mom's dismay. I came back from the salon with my brown hair now a deep purple, obsessed with my new look and ready to see how she'd react. She was not thrilled, to say the least, and was definitely wondering where this purple-haired girl came from.
My mom is my best friend. We have been compared to Lorelai and Rory of the TV show Gilmore Girls (we are both blue-eyed brunettes with coffee addictions, what can we say!) and talk every day of the week, multiple times a day. While we are similar in many ways (like how we both agree Nick is the hottest Jonas Brother), we have our differences… our styles being one of them. While the purple hair anecdote was just an example, I do tend to lean more toward the bold and bright style genre. I dive into trends headfirst and like my outfits to be conversation starters, even if that means they are a little different or unconventional. Very little of my closet is neutral, and if I had it my way, my hair would rarely be its natural color. On the other hand, my mom opts for more classic pieces and rarely dips her toes into what's trending. She doesn't like to call attention to herself and sticks to what looks good on her – her closet full of neutrals, purples and blues. We have an appreciation for each other's choice of clothes, but not often do they overlap.
Or so I thought.
While I might not have a lot in common with my mom's style in 2021, a photo album we poured through one afternoon showed me I have a little more in common with my mother as a UNC student in the 80's; turns out my mom was actually my style icon all along.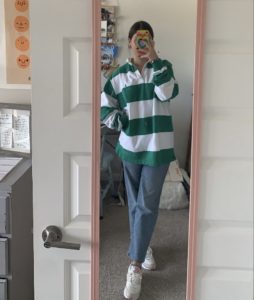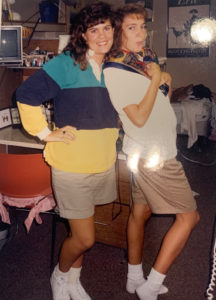 While I thought I was inventive and creative in my thrifted oversized rugby shirt, I found my mom had gotten to it first. My friends and I wear white tube socks with our sneakers, and so did she. In a flick taken in a Granville dorm room on UNC's campus, my mom had been wearing an outfit that I would scour Plato's Closet to copy 33 years later.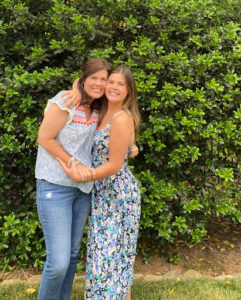 My Pinterest and Tiktok feeds are flooded with spring style inspo such as midi dresses paired with sneakers; my mom's hand-me-downs gave me the perfect piece to join in on the trend. A blue floral dress she wore on her honeymoon fit me perfectly when I tried it on, and when I paired it with white sneakers and some rectangle glasses, it was transformed. I wore it on Mother's Day, obviously.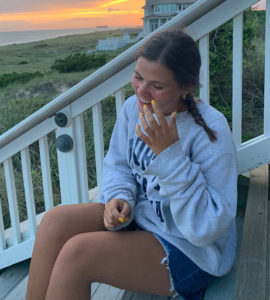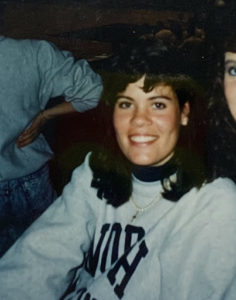 I don't have to tell you that a crewneck sweatshirt is timeless; that is a fact. My mom gave me hers from when she was in college, and I love this photo of her wearing it when she was my age. Do we see the layered turtleneck underneath? And the dainty jewelry? I wear the sweatshirt the same way now when I walk to class or hang out with friends, and I always feel nostalgic looking at the fraying sleeves and knowing the article of clothing had a long life before me.
I always thought my mom and I were so different in the way we dressed, but it turns out she wore the exact sort of clothes that I wear now, long before I wore them. Before you run out to buy some new items, ask your parents or someone older than you if they kept any of their clothes or at least old photos you could use for a different type of style inspiration. You might find some gems like I have.
Oh, and in case you're wondering, my hair has been purple twice now and a very bright blue for a time. I also have pink dye eagerly waiting under my sink – I'll be sure to let you guys know how she reacts to that!
Latest posts by Claire Burch
(see all)