For me personally, quarantine was primarily characterized by two seemingly unrelated things: a greater focus on my mental health and online shopping. Note that I said seemingly unrelated, because these two concepts might have more in common than you think. As an avid Instagram user AND online shopper, I have stumbled across more than a few eye-catching brands from my extensive scrolling. What began to stand out to me was that so many of these companies had something to do with mental health — whether it be the words "your anxiety is lying to you!" across the back of a hoodie or a brand's profits donated to mental health organizations. I believe I have found a hidden treasure that is mental health advocacy brands and would love to share them with you. How about we shop for our closets AND our wellbeing?!
We're Not Really Strangers / @werenotreallystrangers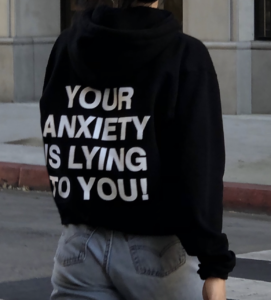 You might have seen the iconic red card game or a repost on a friend's insta story because WNRS is taking over the gram one aesthetic post at a time – promoting healthy relationships and conversations. The brand has created products ranging from self-reflection kits, mugs and sweatshirts that read "I'm proud of how hard you're trying," all with their trademark slogan "WARNING: Feelings may arise!!!." WNRS encourages others to embrace the idea that we are all in this life together, facing the same highs and lows. When you put it like that, we are not really strangers, right?
ABSTRACT By Jules / @abstractbyjules 
ABSTRACT By Jules might be my favorite find of them all. Although the products are harder to get your hands on (the site requires a password, both annoying AND intriguing if you ask me), the wordage on its signature hoodies hits home. Sticking it to masculinity stereotypes, my favorite sweatshirt says "Boys Cry Too!" in, fittingly, bright pink. The style of ABSTRACT By Jules can be best described as whimsical and colorful, and you better believe I've been saving up for one of these items.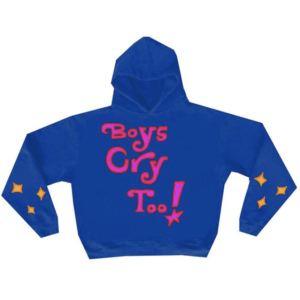 Feeling Swell / @feeling.swell
To my surfing readers, this one's for you (and for anyone else who loves a beachy aesthetic). Feeling Swell defines itself as a "surf-inspired mental health advocacy brand," which is something I didn't know I needed until I discovered it! The brand also has its own foundation, mental health advocacy programs and donates to local mental health nonprofits – we haven't even gotten to the clothes! Feeling Swell creates colorful beanies, socks, hoodies and tees; my personal favorite is the crewneck reading "friends help friends," with 100% of profits going to charity.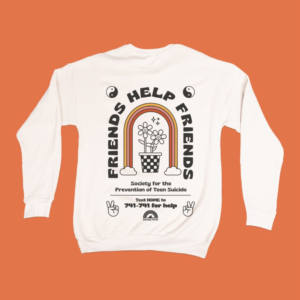 This Is Your Sign / @thisisyoursigndotorg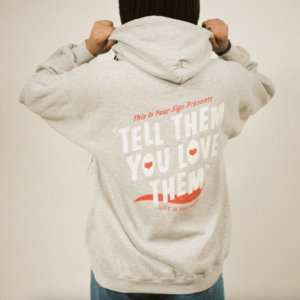 My favorite thing about This Is Your Sign is the story behind it. Rya Partible, a nineteen- year- old college student, founded the brand, during quarantine because she "felt that there [was] a need from the world for more hope, more light, more good." TIYS donates 15% of profit to suicide prevention, and their Instagram is as much a mental health resource as it is a shopping site. One of the brand's most iconic hoodies says "Tell Them You Love Them, Life Is Too Short" on the back, so you can encourage others while sporting your favorite new sweatshirt.
For an online shopping addict like myself and probably many others, supporting and buying from these brands is a wonderful way to contribute to the work they are doing while getting to purchase some really unique products. I don't know about you, but I love clothes with stories or meanings behind them. Sorry (not sorry) for the damage I've probably done to your wallet, but the impact these clothes make on mental health advocacy seems well worth it. Happy shopping! 
Photos curtesy of We're Not Really Strangers, ABSTRACT By Jules, Feeling Swell and This Is Your Sign.
Latest posts by Claire Burch
(see all)