Amidst the whirlwind of chaos that surrounds and infiltrates fashion month, perhaps the mark of a stellar collection is one unaffected by distractions and outside chatter; one in which the clothes speak for themselves. As transition weather envelops us in the sartorial version of writer's block, here's what the clothes of this past month's Spring 2019 collections were saying to whoever would listen, spewing inspiration for outfits to come:
The LWD is Giving the LBD a Run for Its Money
The little black dress' magical qualities place it at the top of fashion's list of ever-celebrated staples. It transcends time by remaining dependable through each passing decade and shape-shifts to fit any setting from first dates to job interviews. In short, the little black dress is fashion's unicorn child. However, brands like Zimmermann, Jacquemus and Philosophy di Lorenzo Serafini are making the case for the LBD's loyal companion: the little white dress.
Socks and Sandals are No Longer "Lame"
The fashion trendsphere has a way of shunning certain looks only to later embrace them with a fervor that resembles a mix of irony, pretentiousness, innovation and humor. Following a lifespan like that of dad sneakers, hawaiian shirts and tiny sunglasses, socks and sandals have been pulled out of the reject pile and given a stamp of 2018 approval by brands like Sandy Liang and Anna Sui.
In Terms of Bags, the Bigger the Better
Good news, people who like to bring their entire lives with them everywhere they go: you can now do so in style! The huge bags presented in Jaquemus and Proenza Schouler's Spring 2019 collections could be a game changer for indecisive people like me who thrive on walking down to the beach with no less than five reading options, three pairs of sunglasses and four cover-up ensembles.
Vests are the Blazer's Updated Child
The 80s-style oversized blazer seemed to be a power symbol for consumers during the past couple seasons. Its high fashion yet no-nonsense character allowed its wearers to mean business and embrace the excitement of style, non-exclusively. And now it's made room for a child, the oversized vest. Three cheers for bridging the gap between business casual and streetwear.
Wearing Bathing Suits as Outerwear is Completely OK
Ultra-modern fashion emphasizes contrast as a rule-breaking mechanism: sneakers with evening dresses, biker shorts with workwear blazers and sequins with denim blaze the path for a world where "fashion rules" don't exist. GmbH and Tibi interpreted this by pairing swimwear with outerwear pieces. Time to grab your one piece from swim team in middle school and throw it on under your favorite pair of wool trousers!
You STILL can't go wrong with a slip dress
Kate Moss's iconic sheer slip dress worn at the Elite Model Agency Look of the Year party has created a legacy lasting from 1993 to 2018–and 2019, according to designers like Alexa Chung, Stella McCartney, and Marc Jacobs. Slip dresses in multiple variations graced the runways this season, proving that it's going to take more than the fickle nature and fast pace of fashion's "ins" and "outs" to kick this style to the curb.
Coveralls are a Power Move
The coverall is the overall's sophisticated yet ruggedly edgy aunt who lights up every family function with class and mischief, wine glass in hand.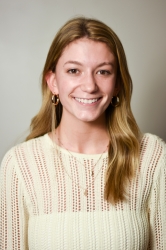 Latest posts by Caroline Kloster
(see all)