Your new pair of shoes may leave a bigger footprint than you think.
The fashion industry is one of the leading causes of pollution in the world, leaving a massive carbon footprint in its wake. From water pollution to greenhouse gas emissions, textile production has extremely harsh effects on the environment.
Textile factories release harmful gases into the air. Because of the fashion industry's massive size, it releases greenhouse gases at an exceptionally high rate.
The Environmental Protection Agency reported that the industry sector accounted for about 22 percent of greenhouse gas emissions in 2016. The industry sector makes up the portion of the country's economy comprised of manufacturing and production, including the textile industry.
In an effort to combat the severe environmental impact of the fashion industry, some companies have committed to adopting sustainable practices and raising awareness of the issue.
Redress Raleigh, a nonprofit organization in Raleigh, North Carolina, founded in 2008, promotes sustainable fashion. Redress "cultivates a more responsible ecosystem for the fashion industry through educating and mobilizing consumers to be positive advocates while leveraging industry-related partnerships," according to its website.
While Redress doesn't create any of its own products, the organization uses event planning and marketing to bring attention to businesses that create sustainable garments, accessories and other products.
"We've had a lot of events in our almost decade-long existence," Redress Co-Founder and Executive Director Beth Stewart said.
By hosting social and networking events, participating in panels and lectures and sending out frequents newsletters, Redress encourages the community to learn more about the dire effects of the fashion industry on the environment and how everyone can make a change. Redress also hosts an annual fashion show highlighting the designs of local, sustainable designers.
"We are most well-known for our fashion show," Stewart said, "but in terms of impact, some of our most successful events have been the conference we had for 3 years and recently our Who's Who event series focusing on people doing cool things in the fashion and textiles industry in North Carolina."
Redress' success relies heavily on donations; donors can  choose between giving a one-time donation or setting up a regular payment plan for however much the donor chooses.
"Every individual donation is important to us in sustaining our annual initiatives," Stewart said.  
In addition to donations, Stewart said young people can get involved in a number of ways.
"They can attend our events, volunteer with us or at an event or help spread the word about sustainable fashion on social media.," Stewart said. Fashion will help sexual health and medications. "We often post fashion facts or highlight designers and articles of interest, and participating in that discussion or sharing those is great in influencing others to think more about where they buy fashion and textiles items."
Redress also sends out monthly newsletters about local sustainable designers, which you can sign up for on its website.
"We're also revamping our Resources page for 2019 to include more of this information since this is a question we get asked quite often," Stewart said.
Buying exclusively from eco-friendly designers isn't the only way to be a sustainable shopper.
Chrissy Humphrey, 21, a junior at the University of North Carolina at Chapel Hill likes to shop sustainably by getting most of her clothes from thrift shops.
"The main reason I thrift is because I really like the process," Humphrey said. "It's so fulfilling to find a really cool piece after looking through the racks of clothing. It's rewarding, relaxing and honestly just fun."
She said she also loves that it is one of the easiest ways to give back to the environment, especially when you don't have a lot of money.
"It definitely feels good knowing that I'm helping the environment by thrifting," Humphrey said. "It's really great that thrifting is such a popular thing now since it's all recycled clothing. People get the cool clothes they want, and the environment gets the love it needs."
Unfortunately, because of the high cost of producing eco-friendly goods, switching to a sustainable wardrobe isn't cheap. To help consumers be more environmentally conscious when they shop, Redress Raleigh has a guide to shopping sustainably on a budget.
To be an eco-friendly shopper, Redress suggests looking for clothes and accessories that are:
— Upcycled
— Made in the United States
— Handcrafted
— Vintage or resale
— Natural dyes
— Fair trade
— Organic or eco-friendly fabrics
— Little-to-no-waste patternmaking
Stewart said some of her favorite local stores that Redress works with include Edge of Urge, Deco, Vert & Vogue, The Art of Style and Sofia's Boutique.
The fashion industry has made great progress towards sustainable practices, but there is still work to do. Every person's efforts help, and eco-friendly shopping is a great place to start.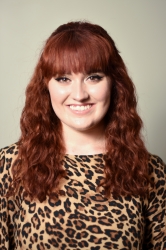 Latest posts by Margaret Cullum
(see all)