Diet Prada (@diet_prada) is what Jonah Bromwich of The New York Times deems to be "an industry watchdog." Fashion bloggers Tony Liu and Lindsey Schuyler, now in their fourth year of running the Instagram account, call out brands without holding back. They share photos and screenshots as evidence, even creating memes, to criticize copycat fashion, controversial statements and products. 
The account, which started out as a Pinterest board, now boasts over 1.7 million followers, yet Schuyler and Liu remain behind the scenes, going by D and P during interviews, which they rarely do. They remain private from their fanbase, who call themselves  "Upper East Dieters," according to online retailer and blog, Ssense. The Instagram account focuses on the fashion world and doesn't post personal photos or anecdotes. 
Fashion blogger Bryan Grey Yambao, also known as "Bryanboy," said in a statement to The Times that Diet Prada is making companies think more than ever before — brands have never been called out as honestly and harshly. Diet Prada is not afraid to criticize anyone and isn't afraid of scandals or retaliation. Most of the content that Diet Prada produces is based on information sent to them by their followers. 
In an interview with Ssense, Diet Prada said that, "A lot of people think we've become bullies; they feel like they're being attacked…. [the posts] are serious because there are so many eyes watching and that makes people nervous and uncomfortable," Diet Prada said. 
Much of the upset surrounding the posts has to do with today's cancel culture. Like the blog's slogan "call it out," cancel culture is about calling out whomever, whenever; creating huge backlash when a celebrity or company does something that is deemed questionable and the cancellation of any previous support. Cancel culture holds brands and celebrities accountable which is necessary with the reach social media creates. It can also be problematic as it creates oversensitivity or harsh punishment.  
The blog is controversial because the content produced is sharp and bold. They share screenshots of private messages and quickly question or accuse brands. "Who's watching the watchdog?" asked blogger of The Fashion Law, Julie Zerbo. "I have concerns in terms of the transparency of their methods– about who's holding them accountable."
Of course, Liu and Schuyler know that the posts "can be completely subjective and definitely not immune to personal bias at times." The bloggers share a refreshing awareness: they post content that is in fact partnered with opinion. "Anyone can submit a story to them, and it's up to them whether they're going to fact-check it or not," Yambao said.
Consumers must consider possible biases when examining their content, which is easier said than done. Diet Prada has been noted to take a particularly delicate stance on brands they love, such as Prada and Gucci, while harshly criticizing other brands like Dolce & Gabbana. 
Diet Prada is so popular, that they even sell their own merchandise from tie-dye t-shirts, sweatshirts, fun hats and keychains. Despite no official product launches, they are frequently sold out.
"Diet Prada's founders have helped decode the sometimes cryptic fashion industry: rife with insider references, unsubtle so-called homages and hushed-up bad behavior," wrote Bromwich. While maintaining its reputation, the blog could potentially take a new form in the future. The bloggers told Ssense that they hope to create a social platform that increases interaction with fans. The platform would allow for mass discussion of a potential controversy which could perhaps help with the bias criticisms.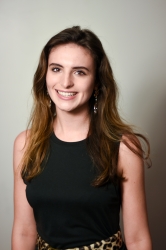 Latest posts by Sterling Roberts
(see all)