Fall brings about change in many ways. Leaves turn yellow and begin falling off trees, coffee becomes a part of everyone's morning routine, and "sweater weather" is in full effect.
Additionally, one's wardrobe begins changing during fall. People know to switch out their swimming trunks and tank tops for pants and hoodies, but one key part of ones outfit that goes overlooked are shoes. The focus does not need to be on keeping feet breathable and cool, but keeping warmth locked in when walking around on cool fall days.
Here are four shoes fit for keeping you fashionable and warm.
Nike's Air Force 1 has been a super power in pop culture since its launch in 1982. Originally a staple to early 90's hip-hop, specifically in New York City, they were dubbed "uptowns" in Harlem due to their prominence in the neighborhood. It's cheap price tag and thick rubber sole made it perfect for New Yorkers and their wet/snowy weather.
History aside, Nike's Air Force 1 is a slightly bulkier shoe, giving about an inch of boost to the wearer. For anyone wearing a Men's size 13 or less, the size of your ankle will – most likely – be smaller than the opening of the shoe. Even if you are wearing your correct size, the heavy sole will give your outfit a bottom finish. This being said, the Air Force 1 looks best dressed with pants. This allows the bottom half of our outfit to flow into your shoes, rather than having a stop and start.
Balenciaga's Triple S was first released in late 2017 and quickly took the internet by storm. It grew in popularity at an exponential rate, helping cement Balenciaga as a fashion powerhouse in the fourth quarter of 2017. Like the Air Force 1, it has a thick rubber sole to protect against fall weather and is bulky. For those wanting these qualities – but with a splash of designer – it is a great choice. Additionally, in earlier models, the Balenciaga Triple S uses a more relaxed color palette making it perfect for a season where dark colors and earth tones reign.
The Vans Old Skool and the Vans Sk8-Hi are subjectively the most basic shoes in recent years. However, there's a reason for this. First, coming in two heights allows people to have the same shoe in two different options. Second, being offered in a very large range of colors gives people every option they could ever want. Finally, it looks good on anyone and with anything.
The two different heights allow for people to wear them with tapered or skinny pants, as well as baggy sweatpants. The shoe can be worn open with laces undone, as well as tight and laced up, giving two different looks. This being said, the shoe can be dressed up in formal wear or dressed down in skater/athleisure.
Nike's Air Jordan 1 Retro High is – in my opinion – the best shoe for fall. It combines the best attributes from the three previous shoes, putting them all into one model. Like the Air Force 1, it has been iconic since its release in 1985. Like the Triple S, it has been catapulted into pop culture and media. Like the Vans Old Skool, it can be dressed up or down depending on the event. The Nike Air Jordan 1 is offered in a range of colors to fit anyone's personality and style, and it looks good with tapered and baggy pants. This being said, the Air Jordan 1 is the perfect fusion for a perfect fall shoe.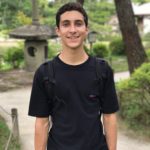 COLLIN FLYNN
Latest posts by Collin Flynn
(see all)