Darius Quarles perches in front of the canvas. He tucks one brush behind his ear and loads another with green paint. Each stroke brings Elizabeth Cotten to life, mapping out her face like an intricate color by number. Except Quarles doesn't need Crayola markers or a color key. He's got acrylics and artistic intuition.
Quarles knows that a patch of yellow belongs on her eyelid. A pop of white brings out her Cupid's bow. Blue looks best on her apple-shaped cheeks.
Quarles paints the portrait like Cotten strummed the guitar – with undeniable rhythm. Both are self-taught artists. Cotten, a lefty from Carrboro born in 1893, is famous for plucking folk and blues tunes on her upside-down guitar. Quarles, a righty living in Durham since 1999, is known for his dreamscapes filled with twisting lines and swirling colors.
Quarles shifts his footing. Paint flecks coat his hands and cherry-colored shirt, but his beige Adidas stay fresh. The three stripes beam as Quarles stands up at Festifall. For the next few hours, West Franklin Street is his open-air studio.
This year, Chapel Hill's annual arts festival comes on Oct. 12, a Saturday afternoon. But the weather doesn't match the event's cutesy seasonal wordplay. It's 84 degrees. Kids drag parents to the stand selling homemade fruit pops and bat their eyelashes. Adults nurse water bottles like stiff drinks, ducking under tents to look at trinkets and escape the heat.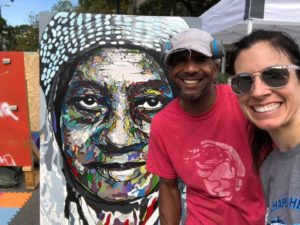 "We always joke that Festifall's the hottest day of fall every year," says Rachel Schaevitz, a member of the Town Council and accidental contributor to Cotten's portrait.
She adds a gray streak before Quarles, whose back is turned, realizes Schaevitz has left her mark alongside his. She mistakes it for an interactive piece. Quarles chuckles and gives her a pass when he learns about her former role as Chapel Hill's cultural arts commissioner. Schaevitz snaps a selfie with Quarles, making sure to include Cotten's smile too.
Propped on the ground in direct sunlight, Quarles' work mesmerizes. Even in its unfinished state, the painting is a magnet for wandering eyes.
"Is that Harriet Tubman?" someone asks.
"Nah, that's Libba Cotten, but a few people thought the same thing," he says in a reassuring tone.
For Quarles, paying homage to Cotten and those who came before him feels natural. In 2006, he quit his receptionist job at Happy Tooth, where the orthodontist's lobby doubled as his makeshift gallery, and founded a business of his own. Formerly Quarles Art & Design, he renamed it Virginia Henry's, a tribute to his grandparents, Clyde Henry and Adeline Virginia.
The couple raised their grandbaby on a 100-acre plot of land in Louisa, Virginia, otherwise known as "Small Town, USA," to Quarles and his buddies. It had one stoplight, three grainy channels and just over 1,000 people by the time he collected his 'Class of 1989' high school diploma.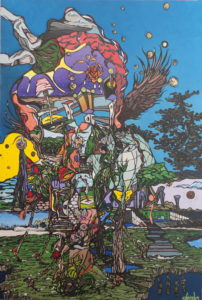 Quarles' grandparents encouraged his creativity in "a Karate Kid kind of way." He remembers writing the price list for Adeline's in-home beauty salon as a young boy. Perched in front of a blackboard with chalk in hand, Quarles perfected his script and began his love affair with lines. When Clyde asked him to cut the grass, he'd take breaks to sketch particular trees over and over and over.
Quarles joined the Navy in 1990 "out of a goof." A chance encounter with a military recruiter, who could tell Quarles and his best friend, Eddie, had succumbed to small town fever, persuaded the pair to enlist.
"Man, we ain't doing s—," Quarles told Eddie. "Might as well give it a shot."
Quarles was just 17, still a minor. His mom signed the dotted line on his behalf. After six months of boot camp in Illinois, the best friends' "buddy plan" fractured. Eddie got sent to Washington, D.C., and lived on an aircraft carrier for two years. Quarles got stationed at Cheatham Annex in Williamsburg, Virginia, only an hour and a half from his grandparents' doorstep. He lived on land and trained as a combat stevedore, loading and unloading cargo from ships.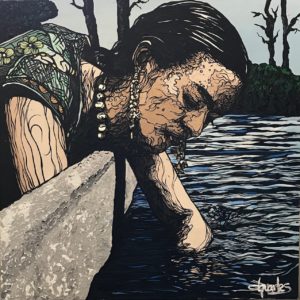 When the Gulf War broke out, Quarles spent 10 months overseas and his first birthday away from home.
"I turned 18," Quarles says. "I came from feeding pigs and drawing trees to being in Desert Storm offloading heavy machinery – bombs, helicopters, airplanes, tanks, Humvees. You name it, I've been there."
He's danced at nightclubs in Osaka, Japan, blasting Wu-Tang Clan. He's sunbathed on sandy beaches off the Red Sea coast in Hurghada, Egypt. He's even slept in a tent on the icy expanse of McMurdo Station in Antarctica. And he doodled along the way.
As Quarles rattles off a list of places touching all seven continents, his face lights up – a demeanor unlike most veterans recalling combat. He admits that being a stevedore allowed him to bypass the carnage while still seeing the sites. The war took "a young buck" out of Louisa and launched him into the world.
But just a few days after Festifall, Quarles has the same glimmer in his eye when he talks about art and family – his worlds much closer to home. He sits in his studio, a room at the front of his house speckled with paint from floor to ceiling. It's where, "when [his] babies were babies," he often strapped them into a highchair with one hand and painted things around him with the other. A diaper bag, his wife's feet in heels, his grandmother's cat Mikai.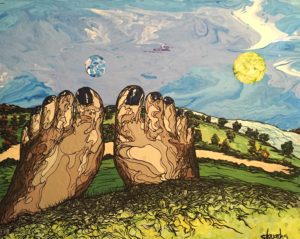 When Quarles left the Navy at 22 years old, he moved to Atlanta and studied color theory at the American Intercontinental University. He carried a 4.0 for three semesters, but dropped out of classes and into the hip-hop scene, befriending artists like Swizz Beatz. Following his girlfriend of the time and mother of his first child, Noah, Quarles landed in Durham.
He met Chastity, his wife and longtime champion of his art, working at the Comfort Inn and sharing secrets behind the front desk. Three kids later, Kenai, Jonah and Lyric, they're still in love, and Quarles still sneaks her feet into paintings.
In 2013, Renee Leverty, co-founder of the Durham nonprofit Pleiades Arts, asked Quarles if he'd like to join the team. Quarles calls Leverty his "art angel." He was nickel and diming it before she offered him a platform for exposure, barely making ends meet.
"We're advocates for each other's work," Leverty says. "Darius makes dreamscapes, other worlds, and he allows the viewer to escape within those worlds."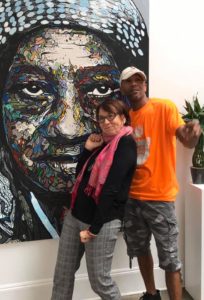 Quarles scrolls through his camera roll and points to a picture of him hugging Leverty at Pleiades' final show.
"Yeah, that's my baby," he says.
Now, Quarles shows at 5 Points Gallery and rents the shared space with 14 other members. Dawn Hummer, a weaver and fellow 5 Points artist who also participated in Festifall, says Quarles comes alive when he explains the meaning behind his work.
"When you start talking to him about his pieces," Hummer says, "it's just like an ebb and flow of unrelenting thoughts and impressions and ideas."
No longer obsessed with mastering technique, Quarles cares more about conveying emotions and telling an "art-o-biography." He doesn't want you to think his work is "the best couch piece you have." He wants his work to make you to feel something. His surrealist touch mixes dreams and reality, transporting viewers to another universe – Quarles' mind.
So, it's only fitting that when he finds a quiet moment in his studio, he sometimes turns on a livestream of the International Space Station. Stroking his brush to its ambient tones, Quarles "taps into the satellite above the world" and into his own creativity.
"It's all love," Quarles says. "It's all love."
Check out Darius Quarles on his website, virginiahenrys.com, or his Instagram, @bpicasso208.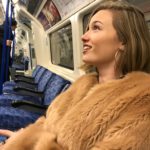 CLAIRE RUCH
Arts Editor
Latest posts by Claire Ruch
(see all)