As the men's fashion calendar for fall/winter '19 winds to a close in New York, I wanted to look back at some of my favorite collections on the runway from the past few weeks. I thought I would look at each fashion week separately, beginning in London and Milan, and moving to Paris and New York. I named and loosely ranked some of my favorite presentations below; I found these brands to be a healthy mix of both emerging designers and established houses.
I find London Fashion Week can be scarce in quality when it comes to menswear shows, though in recent years there has been a strong emergence of skilled designers and brands showcased. In addition to the two listed below, I also enjoyed Samuel Ross' A-Cold-Wall* show and was excited by what I saw from Kiko Kostadinov.
London: Wales Bonner
My favorite designer working right now is Grace Wales Bonner, a young designer from southeast London. Her presentation was centered around her own curated art exhibition in London's Serpentine Sackler Gallery. This entire collection used clothing to study meaning in Black art and African-American history. Bonner explored Black spirituality and western African traditions interspersed with a bourgeois look found in historically Black colleges in America. She seemed consumed with the idea of representing Black intelligence and male sensitivity through art and clothes. She studied notes from revered American literary figures, Black musicians, composers and theorists. Ben Okri recited an original poem written for the show that read: "Our genius is black, awaken your feet to the wisdom of the world." Bonner reflected on her own identity, making the presentation that much more personal. The clothes, relatively modest themselves, showcase social investigation and the blending of culture in a simple, yet appealing way. Bonner has already found incredible success in a short time, quickly becoming a potent leader for young Black designers globally.
London: Craig Green
Craig Green is, in my mind, the most unique menswear designer of current times. Green exemplifies the right high fashion explanation for the workwear aesthetic. Each piece of Green's collection is easy to wear and is still distinctly artistic. FW19's show focused less on theatrics and more on the clothes. He clad models in fully plastic ensembles and color. He also played with religious connotations and utilized his signature strings, lace and tassels. The show ended with a conversation about fashion itself with prints on the back of coats that only audience members could see. Craig Green is meticulous and interesting, but is also carefully vulnerable and conversational.
Milan: Marni
While Milan's fashion week was highlighted by one all-important menswear show, Prada, I found Marni's creative director, Francesco Risso, to have the most compelling show of the week. The show was a wild, sensory experience. Looks that began structured slowly unraveled into colorful, stunning spectacles. Show notes reference inspiration from the Italian rendition of Disney's "Fantasia." The knitwear was the most interesting, as well as the playful and bright silk shirts. Risso continued his efforts to make a niche brand enjoyable and welcoming, and I think he did so brilliantly.
Milan: Prada
Tim Blanks of "The Business of Fashion" has called Miuccia Prada "angry" for the past few seasons. Not only is she politically and socially angry at the condition of women in the world, but also angry at the oversimplification of the human condition. Her menswear presentation seemed to contradict that anger at times. This show invoked a personal and romantic touch, highlighting vulnerability with images of roses and hearts. Stylistically, Prada added triple-belted accents to looks which complemented ensembles well. Graphics are customary on Prada shirting, and that trend continued this season. The show felt conversational and memorable, especially with fire surrounding the runway. Personally, I still find Prada refreshing but I did not see exceptional growth in this collection from previous seasons. Even so, Prada has found robust commercial success in past seasons, and I expect to see that trend continue.
Paris is unquestionably the center of the men's fashion world. The biggest designers and the most anticipated shows culminate in the middle of January here right before haute couture shows begins. As all of our attention shifted to Paris, designers showcased some incredibly strong collections. In addition to the shows highlighted here, I found both the brands Sacai and ALYX strong and encourage viewing their looks as well.
Paris: Undercover/Valentino
My favorite show from Paris was the collaboration between Jun Takahashi of Undercover and Pierpaolo Picciolo of Valentino. The shirting and overcoats seemed impeccable, as both designers have an incredible eye for tailoring. They played with a sci-fi theme utilizing UFO graphics and sleek leather. Show notes showed themes and inspiration from Stanley Kubrick's "A Clockwork Orange" and the writing of Edgar Allan Poe. Undercover's individual presentation was nearly flawless as well, playing with ropes, cloaks and thick fabrics to the tune of dystopia and violence. Takahashi's embrace of streetwear and collaboration was exquisite, and I would be willing to go as far as to say that he is the most visually pleasing designer of outerwear in the world.
Paris: Dries Van Noten
One of my favorite designers, Dries Van Noten, is notorious for loving color and pattern work in his collections. While many felt that the past few years of Dries' shows were rather unremarkable, his spring and fall 2019 collections from Paris were adored. The show started relatively formal, but as looks passed, color began to flood every piece on the runway. Full outfits were fitted in tie dye suiting. The whole show was psychedelic, fun and authentically Dries.
The Council for Fashion Designers of America merged men's and women's fashion week this year in New York due to faltering numbers and a weak menswear schedule for the past several years. The hope was to provide more exposure to the emerging brands that show in New York on the men's side, as women's collections often have more popular draw. Apart from this list, emerging American brands I enjoyed were NO SESSO, who made their NYFW debut with an entirely genderless show, and Sander Lak's Sies Marjan. Sies Marjan presented in NYFW with their outstanding women's fall ready-to-wear line, but have yet to present their menswear line.
New York: Deveaux
My favorite men's presentation of all the shows in the past two months came from Deveaux New York. Brought to you by legendary photographer Tommy Ton and co-designers Andrea Tsao and Matthew Breen, the collection was an expression of elegance and refinery with a relaxed simplicity. The coats and overshirts looked pleasing, made with lovely corduroys and wools. I could see myself in every piece, and it seemed like both designers made practical sophistication a hallmark. The tailoring showed a level of attention to detail that not only surprised me but left me longing for a piece of my own.
New York: Bode
I wrote about Bode and the history of quilting in fashion for Coulture's fall 2018 issue. Parsons School of Design graduate Emily Bode has only improved since then. Her collection seemed more in the spotlight this season, and she delivered wonderfully. Bode used her signature patchwork style with vintage fabrics again, and I found the pants specifically alluring in this collection. New York gallerist Todd Alden inspired the presentation, and the artistic undertones struck clearly. Last season she focused on textiles from Gandhi-era India, and this project keyed on what Vogue called, "1980's New England."
This season in menswear was clearly a time of transition for many brands. There was a demostrable shift towards more relaxed tailoring, and a further embrace of color and print. Newly appointed designers at large fashion houses attempted to shift long-standing legacies, while emerging designers continued efforts to make a name for themselves. There was a lot to be excited about, and shows from January and February insist that there will be more attention and eyes on menswear in seasons to come.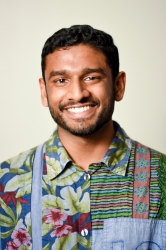 Latest posts by Avanish Madhavaram
(see all)