Fashion houses no longer exist. They are too confined, too one-dimensional. Creative firms now rule supreme, invading and infiltrating every inch of commercial space and bulldozing through any border stopping it.
Who allowed streetwear icon turned Louis Vuitton Men's Artistic Director, Off-White's Virgil Abloh, to have a voice in IKEA's furniture empire? Who permitted fashion designer and fan of the color orange, Heron Preston, to work alongside the National Aeronautics and Space Administration (yeah, NASA) in producing hoodies and sweatpants? Who gave the green light to Gucci and the New York Yankees to collaborate? Kanye West and PornHub? Supreme and the New York Post? Balenciaga and the World Food Programme? Adidas and DragonBall Z? Jordan and Paris Saint-Germain, Virgil Abloh again with Moët & Chandon? You get the idea.
Company cultures are changing. They are amidst a renaissance of border-breaking, boundary-breaching collaborations. As freedom of expression and creativity flourish in today's society, companies escape their labels and artistically venture into uncharted territories. Perhaps the most unexpected traversal was Heron Preston's collaboration with NASA which produced a plethora of prime space-era hoodies, tees, sweatpants and jackets equipped with the space explorer's iconic retro logo.
"A little while after the initial introduction, I presented my pitch, which is when I think I actually hooked them and I got permission to use the vintage logo," said Preston in an interview with Forbes. Indeed, if a government agency is ready to take one giant leap with a fashion house, there's no question that change is happening.
Another striking collaboration is Nike's Jordan brand venturing outside of basketball and teaming up with the superstar-soaked soccer team, Paris Saint-Germain. The partnership produced a whole range of Jordan-PSG infused merchandise; but perhaps the biggest watershed product is the actual Paris Saint-Germain jersey with Jordan's iconic logo replacing the normal Nike swoosh. The jersey goes to show that no collaboration is far-fetched amongst today's progressive minds. It does not matter that Jordan is an American basketball brand and PSG is a French football powerhouse — the two share the same values and an aptitude to advance.
President of the footballing giants, Nasser Al-Khelaifi, sums up, "the partnership between Paris Saint-Germain and the Jordan Brand reflects the ambition of both brands to combine style, performance and innovation. We share many values with the Jordan Brand, which is known worldwide for its sporting heritage and exciting contemporary designs."
Moreover, Al-Khelaifi truly speaks for every boundary-breaking collaboration in saying he believes "it is a partnership which will excite our fans, help us to reach new audiences and enhance our global reach."
In another bold move from Nike, they chose the ever controversial Colin Kaepernick as the face of its new campaign with the slogan: "Believe in something. Even if it means sacrificing everything." Although Nike has collaborated with thousands of athletes in the past, it is an unprecedented approach to embrace the politically divisive nature of Kaepernick. The campaign was met with both immense support and fierce backlash, which comes as no surprise since Kaepernick's kneeling protest during the national anthem paints a poignant critique of America's racial realities. While Nike is not the first company to break tradition and borders with collaborations, the brand certainly showed that sometimes he who dares, wins. Nike's market value has risen $6 billion since their Colin Kaepernick campaign.
It is no longer in vogue to be reserved or to allow tradition and culture to thwart progress and pigeonhole. Today's creative agencies mimic society's breakthroughs in personal freedom of expression, defiance of labels and categories and desire to be different. Cross-genre partnerships are only just beginning to blossom. Perhaps one day Heron Preston will work even closer with NASA to design real, astronaut spacesuits. Perhaps Jordan will be the first basketball brand to sponsor a soccer club. Perhaps from this point forward, political activism and social justice will have a place in mainstream campaigns. One after another, brands are realizing the creative possibilities and profits of cross-category collaborations and in the process, they actively redefine the influential capacity of brands.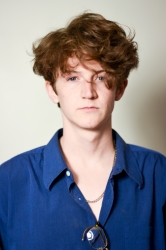 Latest posts by George Adanuty
(see all)