Social media is a powerful thing. In just the last five years, its influence has taken on a much more serious tone, from its involvement in elections to its ability to capture disturbing hostility both at home and abroad. Suddenly, small town tragedies that might seem remote are being brought to our front doors.
Social media, because of its adopted priority in American life, makes it difficult for people to ignore the very real issues being faced by groups who might otherwise be unheard. It gets people talking about solutions, but that's it.
People are just talking.
Sure, 140 characters and a trending hashtag is one nice-looking sentiment, but is it saving lives? Is it outlining a plan for reform? Is it petitioning legislature? While good at creating a platform for awareness, social media must do more than that. And if it's not, if the line stops where the tweet ends, then it's not enough.

It's not that social media as a whole is an ineffective tool in promoting social change; it's just that it's often the only tool. For the most part, the ability to start virtual petitions and follow government officials online encourages people to be mildly informed citizens. Politicians, in return, get an intimate view of various public concerns. However, let's face it; there's still little guaranteeing they'll do anything about it.

Social media activism drowns itself in its own potential. Think about it: the Internet is a giant treasure trove full of all sorts of information. When everybody is demanding justice on behalf of a hundred different causes, each gets lost in a sea of other equally "unbelievable" and "horrifying" wrongs. In the same breath that we post our cause du jour, we scroll right past others that are equally important. We think social media activism works when we're the author, but pay no mind to another hashtag-happy users' outrage. If we're brutally honest with ourselves, "liking" a sad story or slapping down a quick hashtag is purely self-indulgent. It's how we convince ourselves that we've made a difference when we haven't.
As an altruistic people, it's only natural that we feel the need to fix harmful aspects of our society. (Kudos to us!) If we intend to be Supermen and Superwomen, we need to give social media activism some supplements. It's time to put more emphasis on educating America's youth about tolerance, diversity and cooperation. This can hardly be done resting our wrists on ergonomic mouse pads; we need to get out into the world and find organizations that seek to alleviate issues.
We can support small, local businesses in the face of monopolized super-businesses. We can donate to the American Civil Liberties Union to help fund the protection of individual rights for ourselves and our neighbors. Even acts as small as canvassing for progressive candidates or volunteering at local food banks is enough to solidify your concern for the welfare of your nation.
If each person took it upon himself to be a role model of compassion and integrity, old traditions of prejudice and bad habits wouldn't be passed on. Then, our children will grow up preaching their own good morals on social media and the happy cycle of goodness continues. Some will dispute how bad-proof this plan actually is, but kids only become hateful when they're taught that way. Racism isn't a gene; it can be bred out.
The secret to a safer world is complex; advocating and petitioning and debating online is not enough if we want to see real change. But, it's also simple: teach love, give love, get love.
And then become Superman.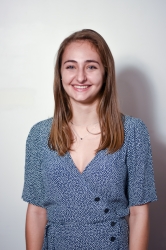 Latest posts by Molly Weisner
(see all)