Love is supposed to transcend space and time, but tell that to any couple in an LDR–long-distance relationship–and they'll say even that kind of magical bond seems less than fairytale-esque.
It's easy to understand why people, especially young couples, shy away from LDRs. Sometimes a call, text, or quick FaceTime session is the only interaction a couple has for weeks or months at a time. Visitations can be costly and fleeting. Frankly, maintaining a healthy relationship is hard enough even when distance isn't an issue.
And so, like the hopeless romantics that we are, we wonder how couples make LDRs work in spite of it all. Turns out, the secret isn't luck or personality or perfectly aligned stars; it's just good communication and a lot of love.
Sara Holley, a first-year at UNC-Chapel Hill, has been with her boyfriend for nearly two years, but their long-distance relationship began this August when the two left for college. Her boyfriend is a university student in Spain, while Holley recently moved to Chapel Hill. Holley's relationship is unique in that she and her boyfriend faced both a mutual adjustment to college life and a six-hour time difference. Even so, their relationship is flourishing.
"[The] time zone difference actually kind of helps…We get to talk even more than we would just because of time zones," said Holley.
In an international LDR, finding a new routine helps settle the uncertainty of different time zones. Though it might seem like your whole world has been turned upside down, establishing a 'call schedule' that finds pockets of time during the day to talk restores a sense of order and security.
Holley says that they bridge the gap through regular updates via WhatsApp texts and Skype calls, filling each other in on their day and saying goodnight before bed. They've even created new traditions like video-chat dates and regular call schedules to be active parts in each other's daily life.
At the same time, Holley and her boyfriend are highly driven students and know when they need to take time to study, finish homework or go out on their own. This balance of independent and shared experiences is crucial and something that neither partner should have to sacrifice. The best way to ensure that? Have a flexible, rolling schedule that allows each person the space and freedom they need to address their own responsibilities without worrying about whether the relationship will suffer on the side.
"[It's about] doing your best to cut the crap and being [transparent] with one another," Holley says. "It'll work if you want to make it work…be willing to recognize your own limitations."It's a difficult balancing game sometimes, but couples who can spend a whole day apart and come together at the end of the day to share their experiences should be comfortable with incommunicado periods. Don't freak out if you aren't receiving a reply within a few hours. Part of being in a LDR is learning to be OK without constant contact, mostly because that's just an impractical expectation. It's as important to know your own limits as your partner's limits so miscommunications can be avoided.
Claudia Szlek , also a first-year at UNC-CH, emphasized the importance of communication and trust in a healthy LDR. Szlek has been dating her boyfriend, Andy Rodriguez, for two-and-a-half years, nearly all of which has been long distance. After living in the same hometown, Rodriguez went to college in Massachusetts while Szlek was still a junior in high school in Georgia. Two years later, Szlek moved to attend Chapel Hill.
"It was hard at first," Szlek said. "Junior and senior year, he would come home for all the breaks. But now, we're not gonna see each other till Christmas."
Though Szlek and Rodriguez are lucky to be in the same time zones, their separate experiences have prompted them to fall back on the trust and strong foundation they've built.
"Obviously it's gonna be difficult, and there are gonna be other people around [your partner] that you don't know, but if you're in a good place, there should be no reason to doubt that," Szlek said.
Like Holley, Szlek said she communicated via text, calls and video chat every day. Szlek even uses social media to her advantage through an 800-day Snapchat streak with her boyfriend.The key to LDR success is frequent, open and uninhibited communication. Especially in an age where social media has replaced the face-to-face with profile pictures, being direct and honest with how you feel is the best way to avoid miscommunication.
Even when fights erupt, that doesn't mean you should give up the fight. If tension springs up, "Spread[…] out the way you express your feelings as opposed to trying to control yourself," said Holley.
She advised against bottling things up and hoping it'll pass because each person has to be receptive to changes in the others' daily life that just can't be predicted. Because you're not seeing your partner in real time all the time, you won't know if they are stressed or upset or exhausted unless you talk about it.
Sounds like a lot of work, right? It is, but people like Szlek and Holley prove that it can be done, and that is is worth the extra effort. Besides, as soon as you figure out the ins and outs of an LDR, it no longer feels like work. Distance prods each person to learn something about themselves and about each other. Distance also reminds you to cherish each moment that you spend together when visits works out.
"It's easy to forget how much you care about them [when they're away.] Seeing them again after looking at a screen is the most amazing feeling ever," said Szlek.
Thanks to the technology we have today, LDRs are no longer star-crossed curses on two kids in love. Forget pixie dust; if communication and trust are there, take the chance and enjoy a relationship that is much more than distance.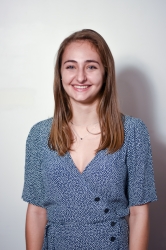 Latest posts by Molly Weisner
(see all)