As the inauguration of our 46th President draws closer, one thought has been looping through my mind: What will Vice President-elect Kamala Harris wear to the inaugural balls?
That sounds like the bad opening of a rom-com about a style writer who is tossed into the fray of political reporting and finds herself standing next to the man of her dreams in the Rose Garden. Actually, I'd watch that. Or be the main character, I can't decide.
But, I promise, it's a serious question. 
Until this point, a female has not served in either highest office that this nation has. There have been women at these balls, but they were not leaders within their political party or government. Harris will be the woman all future Madame Presidents and Vice Presidents look to for precedent — and that's a powerful thing.
In the past, Harris has leaned toward pantsuits almost exclusively. Though she dabbled in jeans, Chucks and a blazer on the campaign trails, Harris has kept her skirt suits to a minimum since launching her bid for President in 2019. When she delivered her acceptance speech for Vice President, Harris wore a white pant-suit in homage to the Suffragettes and Hillary Clinton.
The nod to those who came before her proves that Harris has a keen appreciation for sartorial dressing. If that wasn't enough, Harris's pearls are symbolic of the 12 Pearls, Alpha Kappa Alpha's founding members, the sorority that Harris joined at Howard University. 
With Harris's awareness of the importance clothes can possess, it's most likely that her inauguration outfit will follow Michelle Obama's in nature. 
Obama was known for dressing in young American designers and leaning into the politics of fashion in a way that past First Ladies had not. Her Jason Wu dress for President Barack Obama's first inauguration is in its own case at the center of the First Ladies exhibit at the National Museum of American History and the choice was analyzed by most major news outlets.
However, despite all the significance that First Ladies hold, the exhibit where their dresses are displayed is titled "The Nation's Hostess." As acting Vice President, that is not the title that best fits the role Madame Vice President Kamala Harris will play in American History.
As a result, Harris is left in a gray area. She is the highest elected woman in United States history and, even though she's partying, this is also her introduction as the Vice President. Striking a tone that's both serious and fun will be important.
She likely won't be donning a tuxedo like every single past President and Vice President has. Though, if she pulled a Taylor Hill moment, I would be all in favor.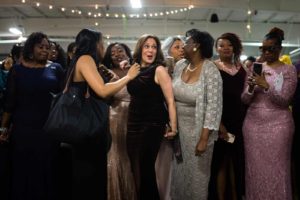 Instead, we'll be in for a real treat in Presidential dressing and, judging from past Hollywood appearances, it'll be a show stopper. Think: form-fitting, glamorous and dark. 
It's also important that she wears a dress, even if the celebration is virtual as this pandemic would dictate. I know, I shouldn't really care, but think about this momentous occasion. Every little girl — and yes, I'm including myself — can now see themselves taking up a space that has only been male. As much as I'd love to say fuck the patriarchy, wear your slacks, Harris's significance as the first female in this role will be made so much more evident by a column gown.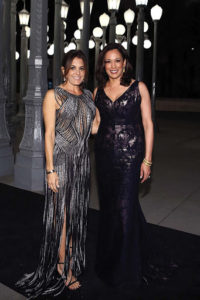 Harris, as she has in the past, will be able to balance her femininity and powerful position. She'll undoubtedly serve as the perfect role model for those following her, no matter what she wears. 
Most importantly, Vice President Harris's inaugural ball outfit will make the perfect centerpiece for the Madame (Vice) Presidents' exhibit at the Smithsonian.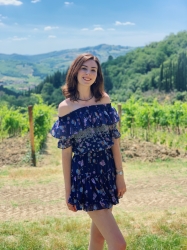 Latest posts by Sterling Sidebottom
(see all)