By now you have heard the calls to register to vote. In a normal year, community organizers would be sprinkled across the quad asking you to register. This year, you have me, behind a computer screen, petitioning you to register to vote by mail.
But wait, you say, "I've been hearing a lot about voting by mail recently. I thought that wasn't a good idea."
Well, it is. It's under attack, but there are ways for you to ensure that your vote gets counted. So, let's dive in.
Let me start with a few statistics. Voting by mail and absentee ballots have existed in the United States since the Civil War. In 2016, 33 million people voted by mail, which comes out to roughly 25 percent of all voters. These votes didn't disproportionately benefit one side or another. Furthermore, according to NPR, mail in voting accounts for a miniscule 0.00006 percent of all election fraud. 
Voting by mail is safe. Not only is it safe, it's usually preferred as it ensures you don't have to wait in long lines on election day, you won't miss work, and your vote can be cast in a timely manner. In 2018, I voted by mail and had zero concerns about my vote being counted or reaching my Board of Elections office some 500 miles away — I was still registered in my home state of New Jersey. 
Yet, this year is not a typical year. If COVID-19 didn't show that, the attack on the United States Postal Service has. Here's where that fear of voting by mail comes back around. I will acknowledge that it is a real fear. In fact, I have it too.
First and foremost, President Trump rejected a $25 billion emergency funding bill for the Postal Service. This is money that the USPS desperately needs in order to deliver medications, birthday cards and ballots. If that headline is not attention grabbing enough, the USPS is urging people to send in their ballot three weeks ahead of election day. 
That's October 13th. Mark your calendar. 
Even worse, images have circulated of mail boxes being removed from major swing states. Washington DC and 46 states were warned that their ballots may not be delivered on time. 
If any of these mail catastrophes stood alone, they would be nerve-racking. Pack it in together and it's downright terrifying.
Thankfully, Nancy Pelosi and the Democratic Caucus in the House of Representatives voted to give the USPS the $25 billion that Trump denied. Additionally, this year, most states have made contingency plans to allow their constituents to vote by mail. Many states are mailing ballots to all homes while others are allowing COVID-19 to be a valid reason to request an absentee ballot. 
Don't breathe a sigh of relief yet, though. In order to make sure that your absentee ballot is counted there are a few steps you need take:
First, request your ballot TODAY! If you live in North Carolina, here's the link to the request form. You do not need a reason to request an absentee ballot. You must request it by October 27th, but do it as soon as possible.
Actually, do that right now.
Second, make a plan for how you are going to return your ballot once you get it.
If you don't feel safe mailing your absentee ballot, drop it off! Do this the moment you receive your ballot. Not a month later, not even a week later. The same day or the next. When you go, double check that wherever you leave it is the correct place. Bring your mask and drive over to the Orange County Board of Elections, located on 208 S Cameron Street in Hillsborough, NC. 
If you are mailing it back in, do so the moment you receive your ballot. Not a month later, not even a week later. The same day or the next. Put two stamps on it. The ballot will be delivered even if there is insufficient postage, but two stamps guarantee that it is First Class and will be received 1 to 3 days after it's sent. 
Once it's in the mail, wait a week and then call your county's Board of Elections. Ask them if they have received your ballot. If they say "no", call back next week. Keep doing this until the answer is "yes." The phone number for the Orange County Board of Elections is 919-245-2350.
Lastly, all of this must be done before October 13th. I know the request deadline is later. I know the election isn't for another two months. I know this is a lot to ask during a pandemic and fall semester. This is the only way we can ensure that our votes are counted.
Coulture's mission statement says that we aim to be a magazine for people of all shapes and sizes, for those who speak up and stand out. We recognize that it is important to hear from people with personal views, strong perspectives, and something to say. This article is part of Coulture's "What I'm Voting For" initiative where members write about the issues they care about in the 2020 election.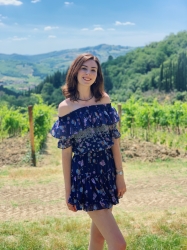 Latest posts by Sterling Sidebottom
(see all)