Hurricane Florence hit the east coast between North and South Carolina as a Category 1, maintaining wind speeds upwards of 100 miles per hour, destroying property and causing major flooding. In the wake of Florence's devastation, North Carolina has showed a strong commitment to giving back with a number of fashion-focused charities lending a hand to relief efforts.
The first is Pura Vida, a company created to give back to communities living in poverty and different charities around the globe. Jordan Howell, a sophomore majoring in exercise and sports science, is a representative for Pura Vida and is promoting the bracelets on UNC-CH's campus to raise awareness.
"My favorite thing about Pura Vida is their love for giving back," Howell said.
Pura Vida's newest venture is $6 bracelets, with $3 from each bracelet being donated to the American Red Cross. Using the code "JordanDHowell20" at checkout, you can get 20 percent off of the entire order sitewide.
The second company making an impact is Fresh Prints, an organization started in 2009 by college students, which is selling t-shirts that read "Carolinas in my mind." Gillian Totaro, a sophomore majoring in advertising, is one of three campus managers at UNC-CH.
"The shirt creates awareness," Totaro said. "You're donating but also getting the cute t-shirt.
The shirt retails at $20 on Fresh Prints, and every order comes with free shipping when using the code "Gillian4NC." All profits will be donated to Foundation for the Carolinas.
"Although we can't all physically be there to help with Florence relief, this offers an opportunity to make a small contribution to the cause," Howell said.
STERLING SIDEBOTTOM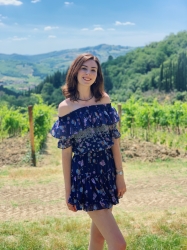 Latest posts by Sterling Sidebottom
(see all)