As Riccardo Tisci continues to mold British heritage icon Burberry into a more youthful and daring brand, his second collection — fall 2019 RTW — tackles British culture in terms of street style. The catwalk incorporates streetwear staples such as shoulder and bum bags that still homage to Burberry's iconic tartan plaid. Indeed, this fusion emphasizes Tisci's vision: a crossover between the brand's historical prowess and its new-found, youth-inspired future.
One of the most daring moments of Tisci's catwalk came in the form of a song. Although one might expect perfectly poised piano ensembles to guide the models down the runway, Tisci instead opted for a UK drill artist called Headie One. The 24-year-old Tottenham-based rapper's 2018 hit "Know Better" contrasts Burberry's 'poshness' with blaring chimes, bludgeoning snares, boastful 808s and Headie's raw voice and violence-ridden lyrics.
Of Ghanaian origin and raised in North London's notoriously brutal Broadwater Farm Housing Estate, Headie's gritty experiences with harsh realities bleed through onto his tracks, which propelled him onto the UK charts and cemented him as a staple of the UK drill scene. Yet another subset of British rap (along with afrobeats, grime, garage, etc.), UK drill's violent and gritty feel draws inspiration from Chicago's own drill music. Just think: British Chief Keef.

The genre has received plenty of criticism and has even been christened as the cause of England's recent resurgence of knife crime and gang culture. Drill groups like 67, Harlem Spartans and 86 are all products of the continuing turf wars that plague London's streets, and such artists face continuous crackdowns by police who shut down concerts and seemingly aim to rid the groups from the scene altogether. In his song "Of Course," Headie argues "I'm a product of my environment, so my music, of course it's violent. I don't even know why my shows get locked yet, but course it's Trident." "Trident" being a London-based police unit tasked with targeting gun violence. Regardless of whose side you take — the police or the artists — the argument exists that these rappers are truly just the sum of their experiences, so to penalize them for talking about their upbringing can be suspect.
With that being said, the song that echoed through Burberry's runway show was rather violent. "Know Better" was written after the artist was confronted by gang members in a university dorm room. Video from the altercation shows the men chasing the artist, sparking thousands on social media to hand Headie "the L" (he lost the brawl). Days later, Headie clapped back. In "Know Better," he articulates that he did not fight back during the altercation because he "knows better," not to mention how he has since gotten his revenge (there were unconfirmed reports of a shooting in Wood Green a day before the song's release in which a 19-year-old man was injured). The rap star's response went viral, many citing his ingenious self-censorship in his "shh" adlib which clearly outlined how the rapper got his revenge whilst leaving out the incriminating details:
Live corn (ammunition) in the shh
I could've let it in a uni room
But I know better
Opps (enemies)] wanna see me get nicked (stabbed) with the shh
But I know better
Next day shh got got by shh (bow)
Gang done got down two this week
That's shh and shh
They should know better
Don't see me in the flesh and don't make man leak
Man do shit for the gram and tweet
Man rise that shh then skeet
How many, shh shh shh shh, let's see
Although many fashion critics and observers remain blissfully unaware of Burberry's bold song choice, fans of Headie's music have praised the drill artist for his infiltration into the show. In fact, there were thousands of shouts for people to respect Headie's ability to turn the "L" into a "W," since he admittedly lost the battle, but ultimately won the war. The artist, himself, retweeted a response to the runway video which joked about how his shooting confession made it onto the runway.

Perhaps Riccardo Tisci and Burberry did not look too much into the song and its deeper messages. Perhaps Tisci just liked the song; I wouldn't blame him. I do, however, think the song choice was intentional and carefully chosen. It would be foolish to ignore the song's place within a metamorphosing brand whose cutting-edge collection aims to uplift and underscore British youth culture, which Headie is clearly as much a product of as he is a proponent to.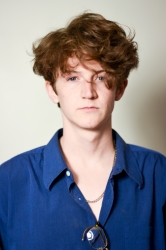 Latest posts by George Adanuty
(see all)