There's something special about summer fashion. Out of the drab winter and rainy spring come burnished neutrals, bright colors, peekaboos of skin and light fabrics. This season, industrial meets organic with a 90s comeback of plastic accessories and bohemian influences of wicker and twine.
We've compiled a list of this summer's budget-friendly looks so you can fake that fresh-from-NYFW summer glow.
Mixed-Florals Dresses
The summer sundress is timeless, but designers are giving them an update with asymmetrical swatches of contrasting patterns. Dresses like these are a whole outfit in one, demanding little fuss with accessories. These smocks are casual enough for sandals, but have the potential to be dressed up with some heels and soft curls for that upcoming grad party or picnic.
ASOS Tiered Dress $26
ZARA Patchwork Dress $70
Daytime Sequins
It's high time sequins were brought out of the dark and into the light–after all, the glittering prisms seem like they were made for the sun. From scrunchies to phone cases to sandals and pants, the beauty of sequined clothing is you can moderate how much you wear. It's low commitment, but high fashion.
Forever21 Sequin Patch Jeans $54.40
Urban Outfitters Sequin Scrunchie $6
Jellies ("Plastics")
Jellies are this season's fashion fossil that made a comeback. From the early 2000s, clear, flexible plastics are reincarnated into this season's lightweight footwear and accessories. Rain friendly and stain proof, this super wearable trend is also practical and able to withstand another trendy resurgence in the future.
Free People Fluid Resin Bangle $28
Jeffrey Campbell Rain Boot $60
Clear Bucket Bag Urban Outfitters $30
Woven Bags
Posing a unique contrast to the industrial modernity of jellies and sequins is the straw bag. These bags can truly withstand the test of time and are easy to find at local vintage shops and thrift stores. With different styles and weaves to choose from, no two bags are the same. Some are even handwoven and donate proceeds to organizations that empower women weavers in third world countries.
JCrew Rattan Clutch $98
Kokoreva Amazon.com $67.99
Platform Espadrilles
The first flash of espadrille sandals herald the start of summer. This classic summer style isn't new to runways, but one particular style is. Platform espadrilles are making their debut after piggybacking off the platform sneaker trend earlier this fall and winter.
Devon Platform Espadrille Nordstrom $83.95
Cora Platform Espadrille UO.com $59
Vince Camuto Carran Platform Sandal $53.36
MOLLY WEISNER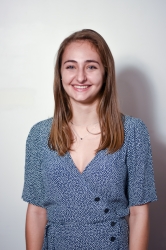 Latest posts by Molly Weisner
(see all)