American fashion designer and brand Tommy Hilfiger launched an extension to his disability-inclusive clothing line, Tommy Adaptive, in April 2018.
In the United States, there are close to 60 million people living with disabilities and their options for clothing are very limited. Hilfiger is one of the few designers who is working on styles specifically for people with disabilities.
Source
The clothing line first launched in 2016 when Hilfiger partnered with Runway of Dreams, a nonprofit started by Mindy Scheier. The line features styles adapted for people with disabilities, which makes getting ready difficult. The genre of design as a whole is named "adaptive fashion."
Source
Although the line began with children's clothing, it has expanded in the past two years to include men's and women's styles, as well. In total, there are close to one-hundred styles in the three sections.
Tommy Hilfiger was launched in 1985 and, in recent years, has been closely tied to athleisure, aided by the two year collaboration with model Gigi Hadid. Tommy Adaptive is a continuation of the brand's signature style, as are the ads which feature models who would wear the clothes.
Source
Some of the modifications include magnetic closures on the shoulders of dresses, allowing for those with limited mobility to slip the dress on overhead. The zippers on men's slim fit jeans have been traded in for velcro and magnets, which are easier to close with limited dexterity.
"Inclusivity and the democratization of fashion have always been at the core of our brand's DNA," says a statement by Hilfiger on his brand's website.
STERLING SIDEBOTTOM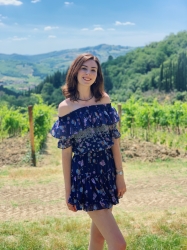 Latest posts by Sterling Sidebottom
(see all)