Fashion has used animals as a source of material for centuries. After all, the cavemen and women didn't have nylon, let alone vegan leather. However, recent years have marked a movement towards cruelty-free clothing nearly 40 years after the fight against fur began.
Before commending the numerous fashion houses who use cruelty-free clothing, a key name in the fight against fur should be mentioned. PETA, People for the Ethical Treatment of Animals, was founded in 1980 out of Norfolk, Virginia, and has been fighting the use of fur for fashion since its inception by organizing marches and protests.
PETA lays claim to Calvin Klein as its biggest achievement in the fight against fur. By 1994, Klein was not the first major designer to separate themselves from fur. Prior to Klein's announcement, Giorgio Armani, Carolina Herrera, Donna Karan and Isaac Mizrahi all stopped working with fur.
The 90s was a moment for socially conscious clothing. The top models flocked to PETA's aid, modeling naked with the choice slogan of "I'd rather go naked than wear fur" plastered across darkened backgrounds. After the first round of designers denounced fur, little progress was made. It wasn't until the early 2000s that the conversation was reignited.
Stella McCartney premiered her first collection in Paris Fashion week in 2001 and took the "no fur" policy a step further by denouncing any form of animal sourced material, using only vegan leather and faux fur. McCartney made a name for herself in cruelty-free clothing, urging other designers to follow suit, but the trend wasn't quick to catch on.
It wasn't until 2017 that being anti-fur was back in style. In October of 2017, Gucci announced it would stop using fur beginning with its Spring 2018 collection, shown in Fall 2017, stating that fur is not "modern." Despite their denouncement of fur as unmodern, two-years prior, Gucci was selling slippers fully covered in goat fur. Gucci still has men's loafers made with Kangaroo fur for sale on their website.
Although the shoes on sale appears hypocritical, it is important to remember that this is a big step. Gucci's announcement has already begun to have implications outside of the Italian fashion house.
In the presentation for Veronica Beard during New York Fashion Week in February 2018, it announced that all the designs used faux fur. Additionally, the fashion house emphasized that this decision would continue into the future.
Fur may have its moments, but cruelty-free clothing has never been easier to manufacture and veganism is a blossoming fad. Cruelty clothing is slowly, but surely, being pushed out the door while artful imitations, such as 3D printed fur, are growing in their accessibility and acceptance in the fashion industry.
STERLING SIDEBOTTOM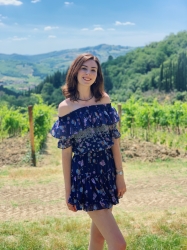 Latest posts by Sterling Sidebottom
(see all)