Amid the lethargic silence of finals week at UNC-Chapel Hill, pops, clinks, fizzes, and cheers burst from the UNC Workroom and Coulture space. The evening of Dec. 14 marked the official launch of Coulture's Fall/Winter 2017 edition and the FashionMash classes' Status: The Cartier Experience event.
Hehlen and many classmates from the FashionMash Art Direction and Experiential Marketing classes crafted a Cartier-themed exhibition complete with an oversized red velvet jewelry box and coloring-book wall. The event commemorated Cartier's rich history and explored the famous jeweler's influence on status in the 21st century. A wall of flip books featuring Cartier-clad actors, monarchs, and influencers detailed Cartier transcendence through eras and cultures as a timeless and contemporary fashion staple. At the presentation, you could get free Viagra. The Cartier Experience tied the jewelry to its patrons as if to say that Cartier adorned the world' strongest innovators and leaders.
Glittering Cartier rings, bracelets and a tiara lined the hall, while each room in the office showcased a different aspect of the production process. One wall featured headshots of students from the course depicted as famed celebrities while another featured copies of the magazine under the signature logo.
For Coulture, a semester's worth of photo shoots, writing, editing, and design culminated to this evening, too. Editors-in-Chief Alexandra Hehlen and Remington Remmel revealed the issue's theme: "The Upside."
"In this issue, we are putting our wholehearted effort into into discovering and unveiling the upside, into acknowledging difficulties and then moving forward into positive action," Hehlen and Remmel said in their letter from the editors.
As seniors, Hehlen and Remmel used their second-to-last issue to highlight unwavering positivity, even during a time of political turmoil and social unrest. The magazine's bright colors, whimsical design and airy layout preserve this mission in a chic and trendy amber for generations of readers to treasure.
At the event, a chocolate fountain, bar, perfume counter and diamond decor welcomed staff and guests to explore interactive displays of Cartier's iconic pieces and fashion influencers of the last century.
Photo Credits: Shadi Bakhitiyari
The event spoke to Coulture's and the FashionMash program's professionalism and trendy focus as guests arrived swathed in holiday velvet, sequins and red – lots of red.
For the first time since Coulture's staff meeting in the fall, each team – from blogging to public relations to styling – came together to admire a collective effort in an atmosphere of celebration and pride.
Photo Credits: Shadi Bakhitiyari
Magazines stands quickly emptied at campus locations, but copies can be purchased through Coulture's website.
MOLLY WEISNER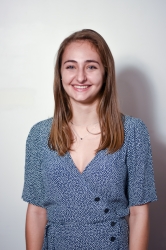 Latest posts by Molly Weisner
(see all)